What's the first thing you learn about real estate?
Answer: Location, location, location
Different states in the country operate their real property differently. Higher property taxes vs lower property taxes. Insurance, cost of minimum wage labor and availability of land all have major impacts on the cost of real estate in these states. That's somewhat of a given, right? It's going to cost you a few million to own a home in the middle of New York City comparatively to a couple hundred thousand to own a home in Houston, Texas.
Similarly, cities and areas within the state will differ dramatically. Boulder, Colorado and Aspen, Colorado are pretty darn expensive comparatively to Milliken or Haxton, Colorado.
The above mentioned statements are pretty easy to comprehend and are generally a given. What I've seen in Fort Collins, is crossing one street could potentially have significant impact on the price of your home.
I am born and raised here in Fort Collins and although I have watched it grown South, it is now expanding North and East as well. Our city now has about 13 major arteries running North and South, East and West. Separated by roughly a mile in between these arteries, our grid separates rather nicely to analyze. And analyze is what I did.
Putting this into a 4-part series, I've followed what other statisticians and reports have done to Fort Collins by separating it into 4 quadrants. The North West, North East, South West and South East. The major road North to South being College and West to East Prospect.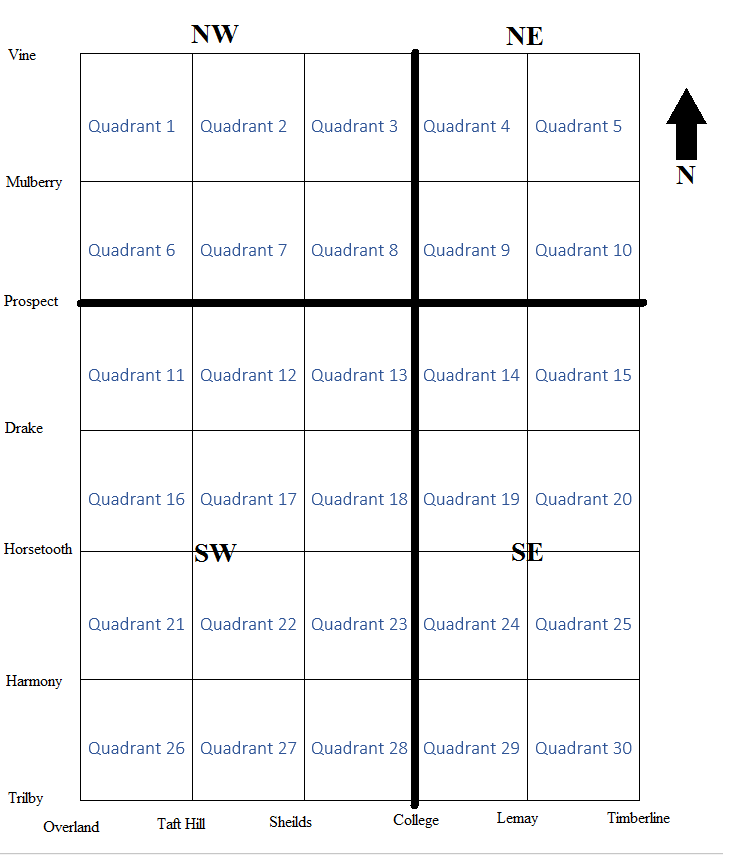 Of course, there are some imperfections to our perfect squares do curvy roads like Lemay and Harmony West of Shields. Overland only Goes to Drake. What we've done is to the best of our ability extend those roads N, S, E and W along their plane. That being said, there are some areas with little to no sales. We will address that in our videos and blogs.
Here is Quadrant 1: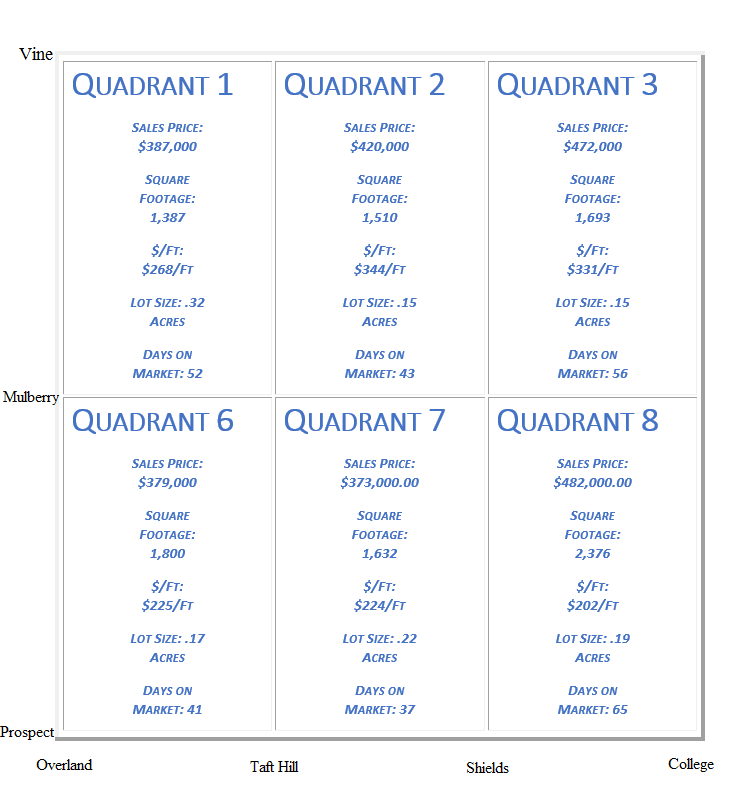 What you can see here is differentiation in median lot size, price per foot, median sales price and days on market.
What can you do with this information?
Use it as a baseline. A guide. These numbers are not hard guidelines either. For example. If you are looking at a home North of Mulberry and West of Taft Hill that is 2,500 square feet on .35 acres and they're asking $562,000. What do you know? You're buying a large home on a large lot for more than other homes are selling for in the area. You are buying at a less price per square foot than the median $/ft in the area.
Is that a good deal or a bad deal? You may be the best house in the neighborhood which is not always the best thing. It also could mean you are getting great value comparatively to your neighbors. I don't think you can necessarily say if it is a good idea. But just being aware of what properties are doing in your surrounding area is important for you to know when you're making that decision.
I'm excited for part 2, 3 and 4 of these series as it is great education for myself and I hope it helps you as a road map moving forward when making these big decisions.