You've decided to buy a home in Fort Collins, CO. Fortunately, we live in a world where you can go on Zillow or RedFin and get an estimate of value of the property that is for sale. It is a neutral 3rd party suggesting value. Not a real estate buyer's agent who makes their living off of selling homes. In reality, so long as the home isn't TOO custom, the ever popular Zestimate, is pretty close usually. If the home is custom or unique (not a subdivision built after 1960), the Zestimate is not that great.
Price of Home: $450,000
Home Buyer: "What do you think the home is worth?"
Agent: "$440,000 to $460,000."
Now, granted, he or she is probably pretty close. Hopefully the listing agent and home owner have really dug into comparable properties and came to a value that makes sense. They probably went through a comparative market analysis (CMA) to come up with the value of their home.
That's great, but what research have you done as a homebuyer to ensure you are buying a home at a good price?
When homes have been increasing 5-10% annually over the last 10 years, you could buy the house and look back and wish you would have bough 5 more. What if prices plateau, or worst, decline?
Here is how the Single Family and Condo/Townhome Appreciation has looked since 2016: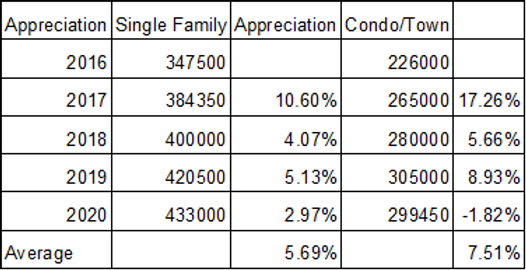 It's important that you take the time to really dig into the numbers and make sure that you are getting a good value. Don't bank on appreciation. Even knowing what the median priced homes are selling for, how much square feet you can expect and accompanying monthly expenses.
Watch this video here: