Welcome to the SouthWest! Where the Rocky Mountain Lobos prowl, the cars flow off the dealership lots and the Foothills are out our back door.
Okay, while all those are true, I am a Fort Collins High graduate and I ain't about to start dotting on the RMHS Lobos!
We are in part 3/4 of looking at the breakdown of the submarkets of Fort Collins, CO. We've looked at the NorthWest and NorthEast and on this post, we will break down the SouthWest.
What we have been focusing on is the Median Price, Median $/Ft, Lot Size, Days on Market and the Median Square Footage. All of the information is from 1/1/2020 to 6/30/2020.
This information is to help GUIDE you on your path to owning real estate in Fort Collins. By no means is this a rule book, but more just guidelines to understand.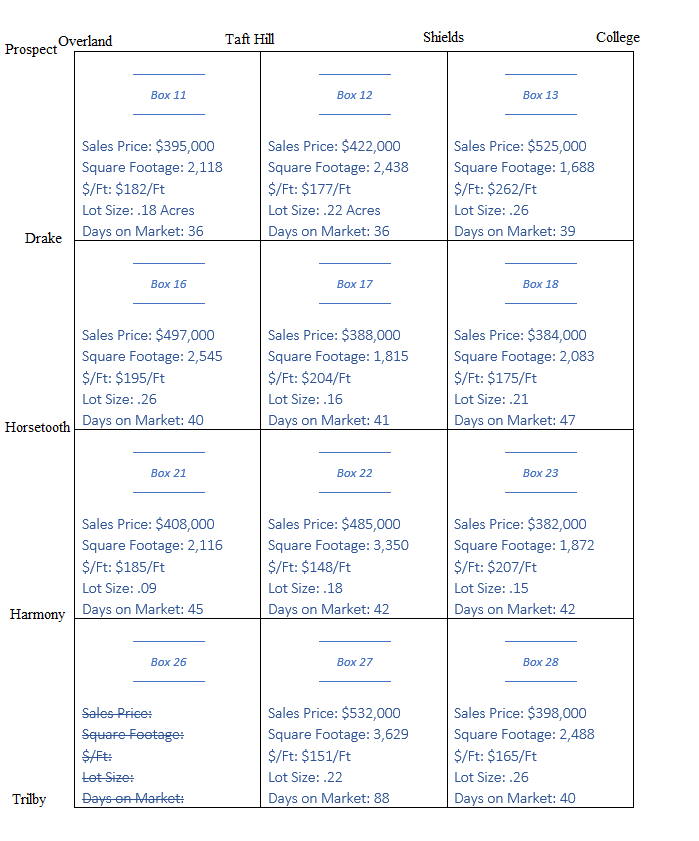 College avenue is a major commercial highway in Fort Collins. Fortunately, we have had amazing city planners that have developed a very business friendly and residential friendly city. Homes are tucked behind commercial areas all the way back to the foothills.
We have moved away from our downtown homes. Less square footage on small lots. That doesn't mean we won't come across some areas on smaller lots, but they will generally all be .15 acres + and at least 1,688 + square feet in all of these areas.
As you can also see in box 27, we get into more luxury homes in Clarendon Hills – Seeing a Median Price point of $532,000. The great thing about that price point, is the DOM is 88! Take your time. There is no rush comparatively to other areas in Fort Collins.
You can see everywhere else, DOM will range between 36 of a low in Box 12 and 47 in Box 18. That basically means the property comes onto them market for 5-15 days and then goes under contract and closes 30-40 days later. That's not much time to think!
The best value as far as home/Ft is Box 22 coming in at $148/Ft. The most expensive area is Box 23. Right next door at $207/Ft. Think about that. That is only separated by 1 mile at any point. This really conveys the point that theses little sub markets within Fort Collins operate very differently than one another. That does not mean that we will see anything like the median price per foot of $562/Ft in Boulder.
Box 26 has been X'd out. There was only 1 sale in this area. As overland Does not extend past Drake. I put "For Now" as I believe we will see infill opportunities everywhere there is land and area. The landfill will be at its capacity soon enough and although, I would not want to live on or near the landfill, there will be homes put up as soon as that place is turned into a park or whatever.
Southwest Fort Collins is great for a quick trip up the mountains, but it does have a little bit longer trip to the Interstate (15-20 minutes instead of 5 – Big Deal). There are some really cool redevelopment areas that are happening and will continue to happen. It is a long play, but I really Like SouthWest Fort Collins long term.