As the soon-to-be largest generation in America, millennials will play an immense role in the American financial future. Yet, many are delaying the "traditional" road marker to adulthood: homeownership. There have been some recent increases, but the millennial homeownership rate still significantly lags compared to similar age groups in previous generations. Apartment List surveyed 6,400 millennials on their plans for homeownership and presented its findings in a newly-released report.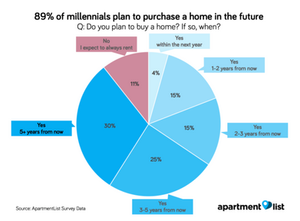 Today, owning a house is still a goal for many millennial renters. In fact, 9 out of 10 surveyed millennial renters said they plan to buy a house at some point. That's 89.4% of respondents. However, 34% will most likely wait five years to enter the housing market. 4.9% say that they are ready to become homeowners within the next year.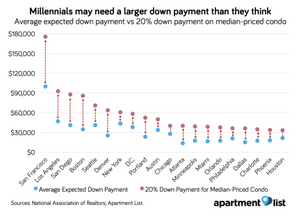 Millennial renters tend to misperceive the value of an average down payment in their area and the amount they would have to save in preparation for it. For example, in Houston the expectation and reality are not far apart, with the anticipated amount averaging to about $27,000 versus the actual $31,000. However, in San Francisco the common opinion among millennials is that the average down payment is around $100,000, yet the actual amount falls somewhere close to $180,000. Two-thirds of millennial renters would require two decades at the minimum to save enough for a 20% down payment on a median-priced condo in their market. Out of those surveyed, 89% would struggle to save for the average 20% down payment within the next five years. Furthermore, 48% of millennial renters have zero down payment savings, and only 89% have less than $10,000 saved.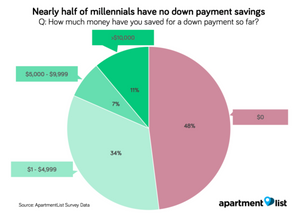 Many millennial renters aren't ready to settle in the near-term. 34.0% say that they aren't yet ready to plant roots in their current city. The share of those who plan to stay as long-term renters has been growing. Combined with a preference for flexibility, many millennials just aren't as likely to view homeownership as the #1 priority of the American Dream. Combined these two factors are a growing reason for delay in entering the housing market.Millennials find themselves in difficult economic circumstances: slow wage growth, upward climbing home prices, and student debt burdens have made owning a house evermore difficult. For many millennials, the dream of homeownership will continue to be frustratingly just beyond reach.